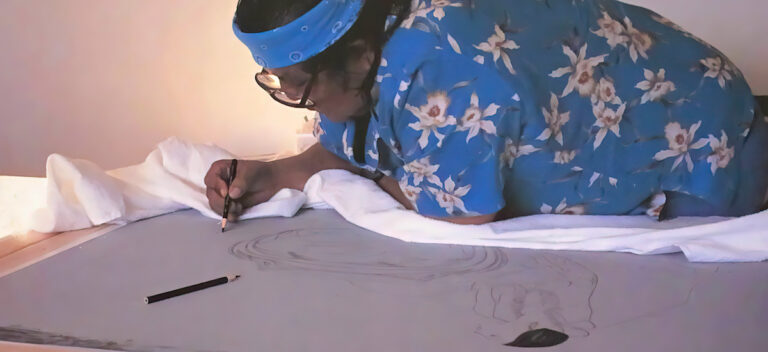 R.C. Gorman's Simple Lines, Fluid Forms & Vibrant Colors
Perhaps the most revered Native American artist ever, Navajo-born R.C. Gorman is noted for his simple lines, fluid forms and vibrant colors, with paintings, sculptures and ceramics that typically reflect Native American women.  The New York Times dubbed R.C. Gorman  "The Picasso of American Indian artists."
Gorman's use of color and his freedom of style depicts his people and traditions. Often working on oil paper, the pencil grease partially dissolved and gave each of his works a marvelous washed effect. Gorman added his own unique mix of colors using turpentine as well. He developed and refined this technique and used this approach with many of his artworks.
Oil painting papers have a special coating that prevents the paper from absorbing too much of the oil content of the paint. They usually have an embossed linen texture on their surface which is specially treated.
It's important that the paper is sealed properly to prevent the paint from being absorbed. Too much absorption embrittles the natural fibre of the paper making it look matted and crumbly and can, in some cases, cause the pigment to lift from the surface. Using properly sealed and sized paper means that the colors remain bright and last over a longer period of time.
R.C. Gorman Navajo Gallery is the only recognized "Official Representative of the R. C. Gorman Estate". We have the largest collection of R.C. Gorman art mediums in the world. We offer his original artworks as well as his: Limited Editions, Lithographs, Acrylic Paintings, Oil Pastels, Woodcuts, Bronzes, Ceramics and much, much more.
Our Giclees, made using a special process, are an affordable alternative to R.C. Gorman originals. They are made of 100% cotton paper and printed with 100-150 year archival inks so that they can be enjoyed for years to come. The paper has a much longer life span than commonly found with cheaper printing papers. Although more expensive, the long fibre strands of cotton give the paper the strength to withstand rougher handling without easily tearing.
R.C. Gorman Navajo Gallery Giclees can better withstand the changes in humidity and temperature. Our giclees are the highest quality reproductions of R.C. Gorman's original artwork available anywhere making it very difficult to tell the difference between the Giclee and the original. All edges are hand-torn to remain consistent with the artist's original aesthetic intent. 
A Giclee is the only printing technique that accurately captures the colors and intent of the original art as closely as possible that not only can last for years …it can actually outlast the original!
Giclees are now available in 5 different sizes, framed or unframed, to compliment any room in your home or office.